T-360

Ergonomic Nozzle
Reduce pain and fatigue
Ergonomically designed to reduce pain and fatigue because
you don't have to hold your arms in awkward positions.
Features & Benefits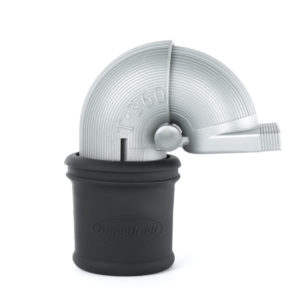 Reduce pain and fatigue…T 360 Rotates 360 degrees and it's Telescopic…..It's Universal Fits on Practically any blow dryer from 1 1/2 to 2 1/2 inches…Ergonomically designed to reduce pain and fatigue because you don't have to hold your arms in awkward positions ..curls, color, and hairstyles will last longer..WHY
Because when you blow with the flow of the cuticle… you'll close and lock your color and hair styles in… which will last longer. With the T-360 you'll position the T-360 nozzle not your body.
PATENTED PERFECTION: The key to this patented design is the telescopic pivot point and 360-degree rotation on the nozzle, allowing anyone to dry at any angle with minimal movement of the arms.
Did You Know?
It's estimated that hairdressers do more than 500 hours of hair drying in a year.
Hair dryers weigh about as much as a carpenter's hammer.
Hair dressers must repeatedly have their arms raised 60-90 degrees to blow hair effectively, which puts constant strain on the neck, shoulders, arms, wrists, and back.
More than 30% of hair dressers suffer from arm and elbow pain, 40% from wrist pain, 70% from back pain, 60% from neck pain, and 75% from shoulder pain.
Many hairdressers have to retire from hairdressing prematurely due to repetitive wear and tear
Many people are forced into uncomfortable positions causing them to quit before their hair is completely dried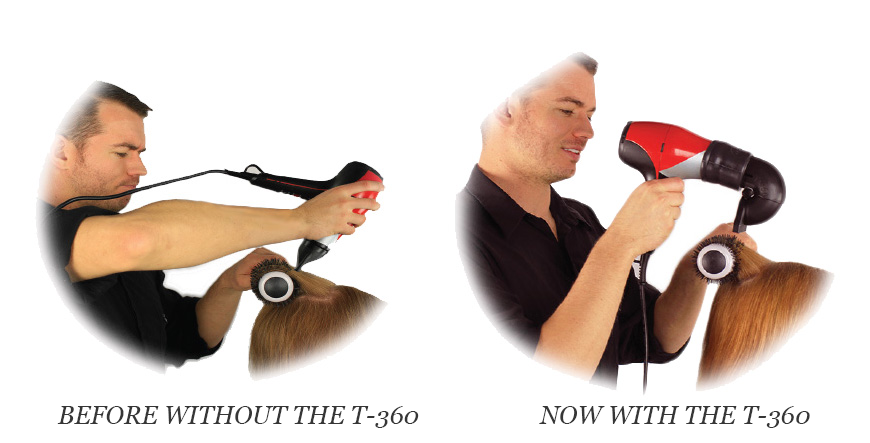 Ergonomically Designed:
T-360 is the only product of its kind designed to prevent pain and fatigue while blow drying hair.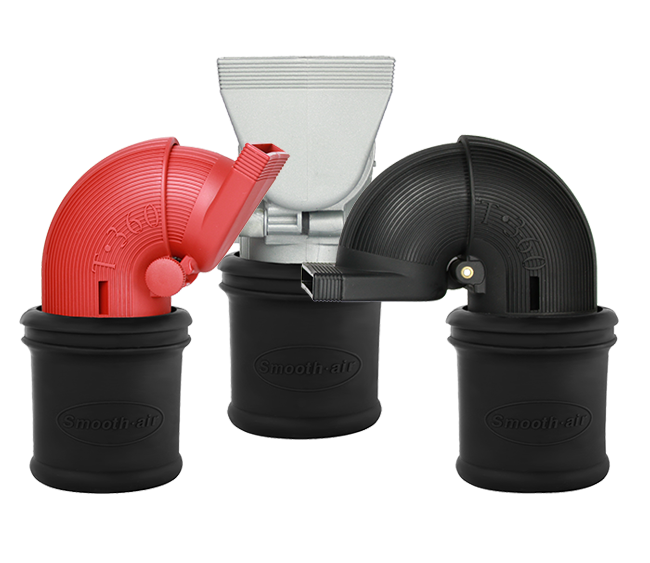 No need to raise arms.
Reduces neck, shoulder, arms, wrist and back tension.
Adjust and control the angle of the airflow and target hard-to-reach areas in a relaxed and comfortable position.
Instead of repositioning your body, you just reposition the T-360
Unique patented design will fit securely on most blow dryers.
Buy Your T-360 Universal Nozzle by Smooth-air Now, Risk Free, While Stock Lasts!
F.A.Q.: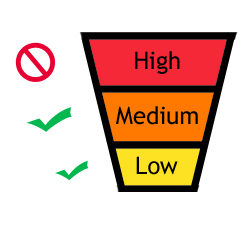 Is the T-360 universal?
Yes it is…. the T-360 will fit on most blow dryers 1 1/2 to 2 1/2 inches
How to clean
Remove the T-360 from blow dryer and use a damp cloth to wipe clean
How many colors dose the T-360 come in…
The T-360 comes in Red,Grey and Black
What temperature setting is recommended for the T-360 nozzle?
It is recommended to use low to medium heat on the hair dryer.