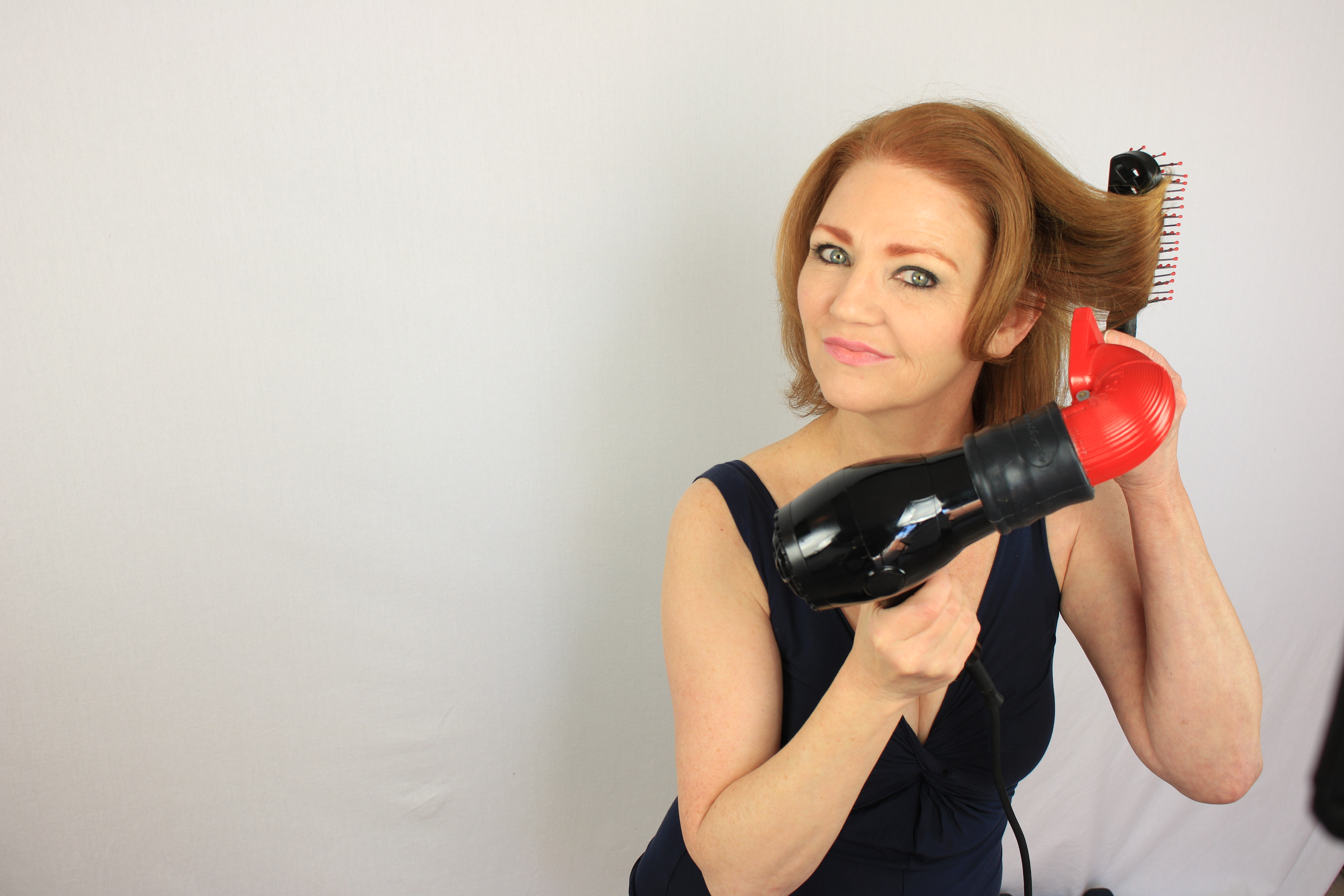 If you're like most hairdressers you're experiencing shoulder, back, and neck pain brought on by blow drying's awkward positions.  That also commonly causes wrist, arm, and elbow pain.  And that can even bring a premature end to your career.  Fortunately Smooth-Air has invented a unique nozzle attachment that converts just about any hair dryer into an ergonomic dryer to put all those aches to rest.
It's Not Just You
You know that being a stylist is actually a physically demanding job.  Awkward body positions as you cut and style leads to aching arms along with other pain and fatigue.  But have your realized how much of that comes from hair drying?
Hairdressers spend over 500 hours a  year drying clients hair.
A professional blow dryer weighs as much as carpenter's hammer.
Using it involves repeatedly raising your arms above eye level.
That strains neck, shoulder, and back muscles.
It can also irritate tendons in wrists and elbows.
No wonder we end up with physical problems.  Experts recommend that all stylists pay attention to ergonomics — the application of medical principles to reduce work stress and injury.
The Ergonomic T-360 to the Rescue
The T-360 is an ergonomically designed adjustable nozzle that works with just about any hair dryer.  Invented by a hairdresser 40 years in the business, it's patented and the only product of its kind.
Adding an innovative telescoping pivot that swivels and rotates a full circle — 360 degrees — it converts any blow dryer with a 1 1/2 to 2 1/2 inch nozzle into an ergonomic dryer.  Quick and easy adjustments avoid awkward body positions, letting your neck, shoulders, and arms relax.  And relieving wrist and back tension.  The T-360 ergonomic dryer nozzle's adjustable angles makes makes all those hard-to-reach areas comfortable.
[button color="default" size="lg" shape="square" link="https://www.smooth-air.com/buy-now/" target="_self" class=""]Buy Now![/button]
Happier Customers Too
The T-360 lets you set the right angle to blow with the flow of hair cuticles, away from the scalp, without awkward arm and body positions.  You'll have more control in avoiding hot spots and reducing frizz.  Hair dries faster.  Blowing with the flow of the cuticle also locks in color and style to give your clients healthier, shinier, and longer-lasting hairstyles.  You and your customers alike will appreciate the improvements.
Just Imagine…
…blow drying without raising your arms!  Position the T-360's patented ergonomic dryer technology, not your body.  You can dry at any angle with minimal arm movements.  No more aching shoulders, back, and neck controlling your day.
Better still, the cost is low.  When compared to that of carpal tunnel syndrome and other specific conditions needing medical treatment it's virtually nothing.
Feeling better you'll enjoy cutting hair and styling more, and your clients are likely to notice the extra time and attention.  That brings them back again and again for more sales in your salon.  You'll be more productive and ready to take on more clients.