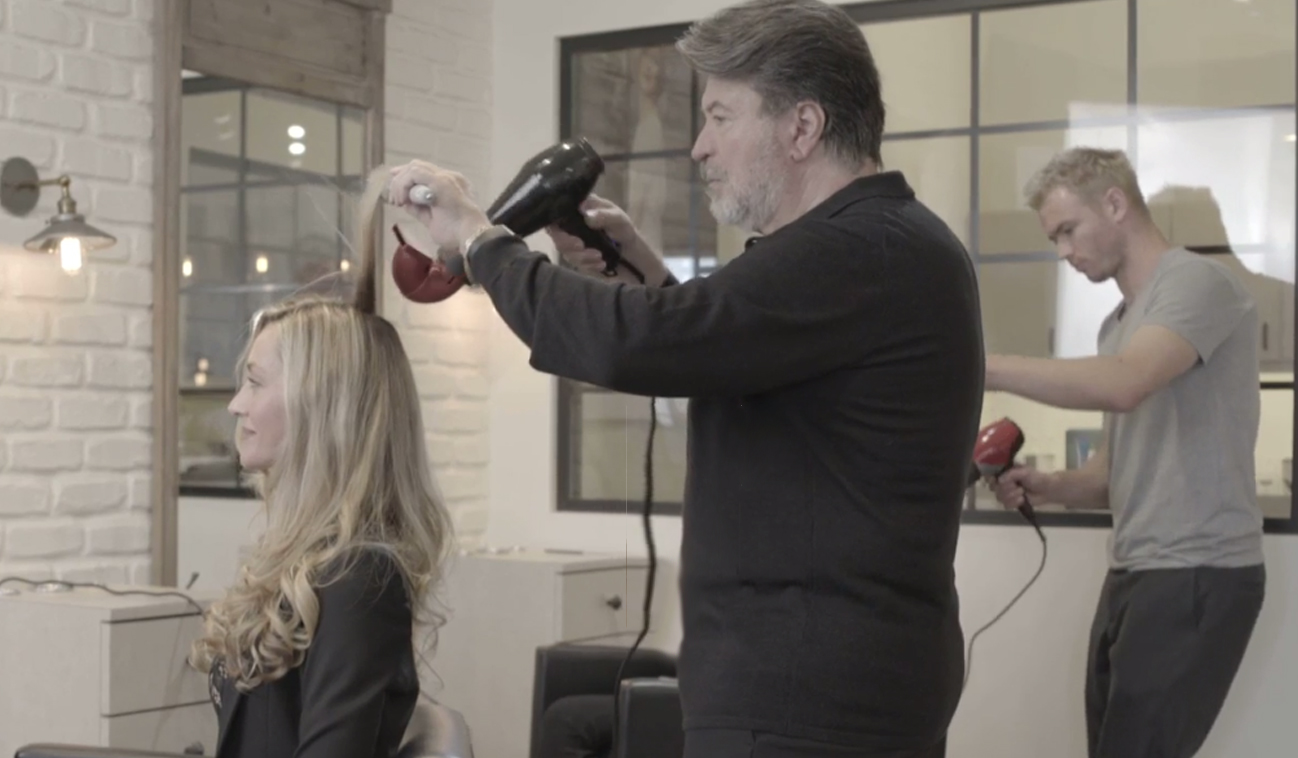 I love to cut and style.  But like most hair stylists I usually finished the day with aching arms and shoulders.  It wasn't from washing and rinsing, or trimming.  It was from awkward body positions holding that heavy hair dryer.  Some days it was bad enough to ruin my evening.
That Had to Stop
After decades of aches and pains from the stressful body positions of blow drying, it finally dawned on me that rather than suffering through it year after year I should do something about it.
I've been a hairdresser and salon owner for over 40 years and hadn't heard of any products or other solutions.  But surely they existed.  So I surveyed blow dryers and the hair styling industry far and wide.  I was surprised to discover that there wasn't a single solution out there.  Ergonomic dryers seem to only pay attention to the grip.
Others Had the Same Problems
I also soon discovered that other hairdressers had the same complaints.  Fatigue from having to raise their arms way above eye level.  Stress and downright pain in their wrist, arm, neck, shoulders, and back from difficult positions trying to avoid frizzing.  Or having an unhappy client because they just couldn't stand the pain any longer and took a few shortcuts.  Some required medical treatment and some even had to go on workman's compensation.
So…
There's no point in reinventing time-tested blow driers.  So I designed an ergonomic hair dryer attachment.  It started with two key requirements.
It had to be a universal attachment, fitting securely on blow dryers with 1 1/2 to 2 3/4 inch outlets (the most used sizes in my survey).
It had to let you blow dry from any angle without raising your arms way above your head or taking a stressful posture.
The result was a unique design — The Smooth-Air T-360 — featuring 360-degree full-circle rotation and a telescopic pivot point.  Its flexible silicone sleeve withstands over 400 deg. F so it can take whatever your hair dryer puts out.
It's a bit complicated to describe, but extensive engineering effort went into making it simple, quick, and easy to use.  I tried to keep costs down by manufacturing it in China.  Even after hiring a translator with manufacturing contacts and after several visits to China, the results still didn't meet my standards.  So with a little rework, Smooth-Air makes the T-360 in the USA.
The T-360 Universal Nozzle Works!
Launched late in 2017 the T-360 is already changing the way individuals and professionals blow dry hair.  It turns any hair dryer into an ergonomic dryer.
It was worth all the design time and added effort of getting everything right.  My own aches and pains are long gone and buyers have been delighted with their own results — less stress and better hair styling.  They appreciate being more relaxed when they cut and style.
The T-360 quickly rotates and swivels so you're not forced into awkward body positions.  No more back, neck, shoulder, arm, or wrist tension.
You can dry at any angle with minimal arm movement.  You'll work a bit faster yet be less tired at the end of the day.
It lets you comfortably blow with the flow of the cuticle to better control fizz.  Clients will be pleased with healthier and shinier hair and longer-lasting hairstyles
You can better direct air away from the scalp for more control and better client comfort.
Want My Patented Solution?
It's the only ergonomic dryer attachment of its kind.  You'll soon be concentrating more on styling without the distraction of blow drying's tension and fatigue.  Your customers will be happier, and you'll feel better at the end of the day.  There's a good chance you'll even end up with more sales in your salon.
[button color="default" size="lg" shape="square" link="https://www.smooth-air.com/buy-now/" target="_self" class=""]Buy Now![/button]
Your purchase is risk-free.  If you're not 100% satisfied simply let us know and we'll refund your order.  You have nothing to lose except your blow-drying aches and pains.
Be sure to order while our stock lasts!