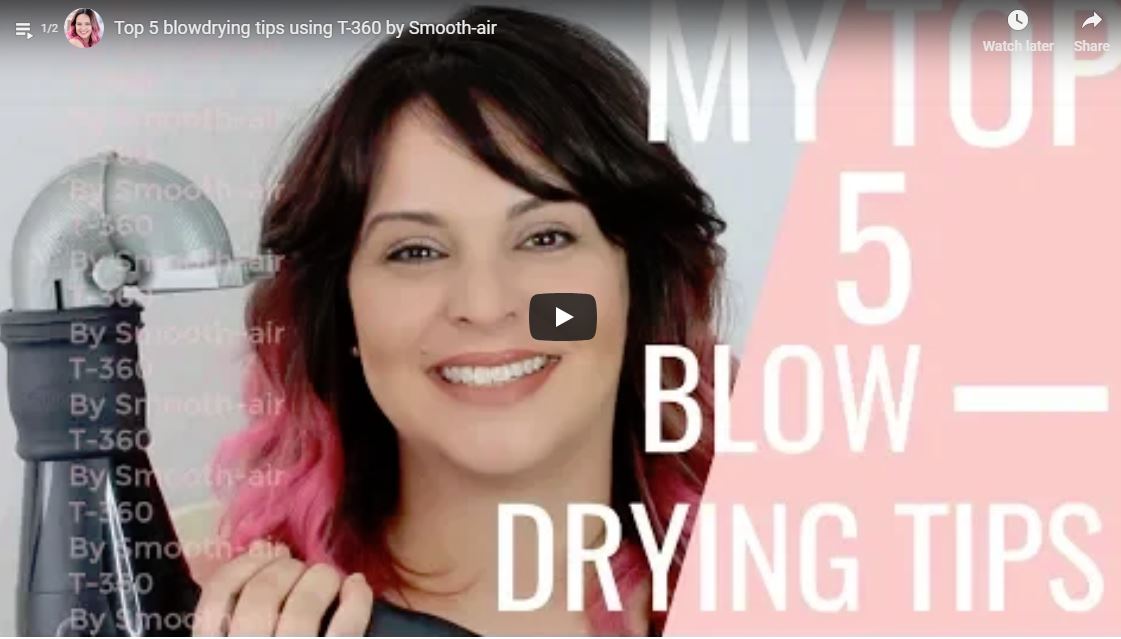 Looking for an easier way to avoid frizz?  To give your clients extra volume, bounce, and movement in a lasting hold?  These tips reveal better ways to style.  They could mean extra work, but the Smooth-Air T360 ergonomic hair dryer nozzle attachment makes it all easy.  And it makes a big difference in how you blow dry.  Here are our 5 top styling tips.
Tip #1
After properly shampooing and conditioning hair, blow it out using a mousse.  Use a generous amount — mousse is over 90% just air and water.  It's great for all hair types, providing a longer-lasting hold and higher volume.  And it relaxes curly hair.
Tip #2
For faster drying remove as much moisture as possible from your client's hair before blow drying.  Drying from the root and leaving the mids and ends a little damp is important in smoothing.  Rather than making major movements with your arm and wrist to do this, just adjust the T360.
Tip #3
Work in clearly divided sections no wider than 3 to 4 inches.  Working your way upwards from bottom to top, always blow in the direction of the cuticle to avoid frizz.  Adjusting the T360 to blow downwards makes this a lot easier.  For thick, coarse, or very curly hair smooth both sides of each section, reversing the T360's direction.
Bonus Tip:  Using claw clips avoids grabbing or snagging hair from another section.
Bonus Tip:  When you're working towards the sides and top, over directing the hair adds volume.
Tip #4
Want more bounce and movement?  Right after the hair has been heated, dried, and smoothed roll it up and clip it into place as if you were using curlers.  Then let it cool 5 to 10 minutes to set the curl before removing the clips.
Tip #5
Despite declining in popularity, a light hairspray prior to removing the clips is still great for holding shape. But with the first four tips it's optional.
What's a T360?
The Smooth-Air T360 is a blow dryer nozzle attachment developed specifically to address the ergonomic issues hairdressers have with blow drying.  It's the only product on the market that features 360 degree rotation and tilt adjustment.  Rather than holding your arms over your head and taking awkward positions, just adjust the T360's nozzle.  That eliminates stress and pain in your shoulders, neck, and back and throughout your body.  You'll feel better at the end of the day, and just might avoid a rotator cuff injury.
The Smooth-Air adjustable nozzle fits on just about any blow dryer, and unlike most attachments, it never becomes too hot to comfortably touch.  Not even on the highest hair dryer settings.  It's adjustments are a bit difficult to describe, but the video shows you exactly how for each of the above tips.  For most stylists, it becomes second nature after as little as 15 minutes of use.