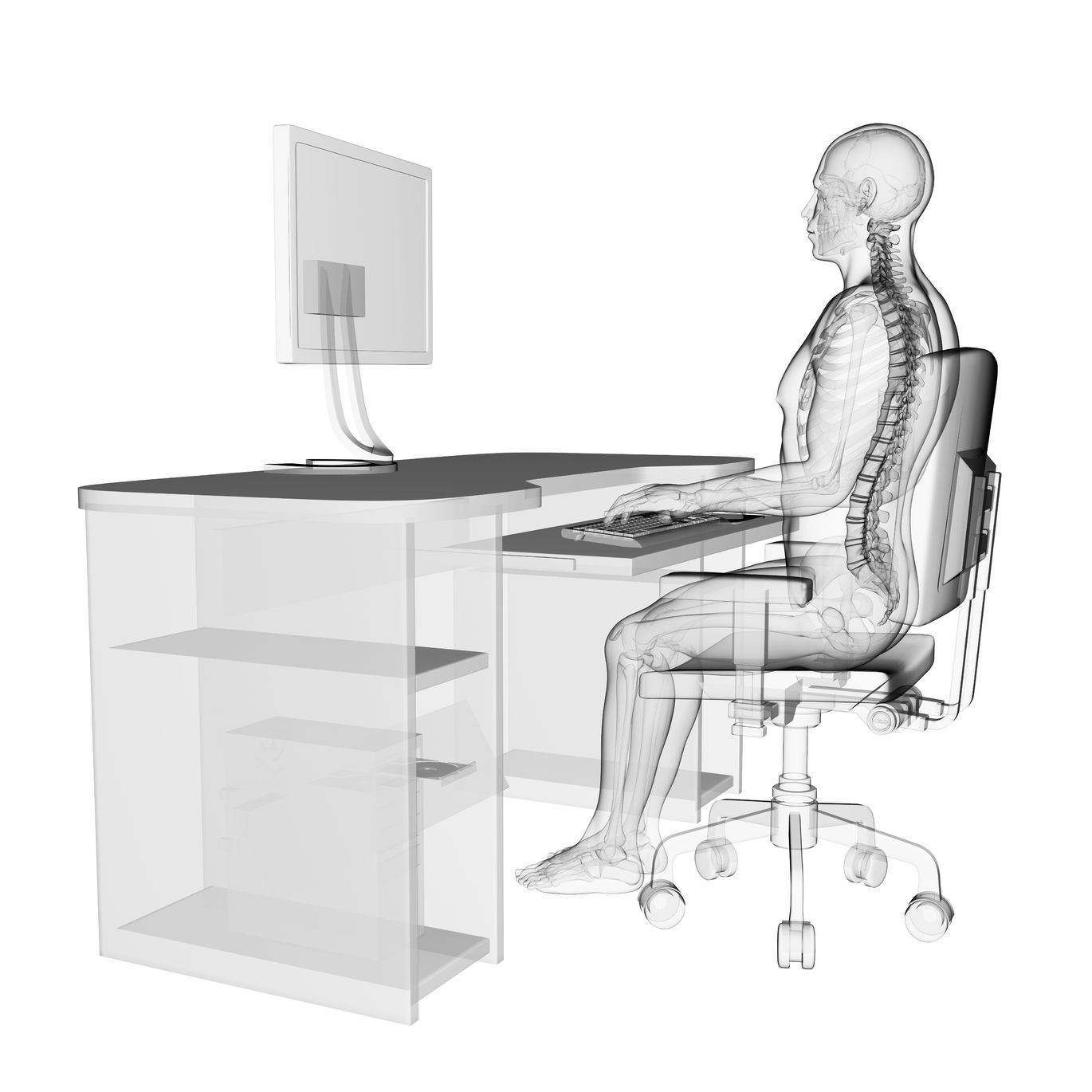 Any work environment that keeps you on your feet all day takes its toll on the body.  So it's important to pay attention to good posture, good footwear, and more.  Stylists also experience a great deal of stress on their upper body, commonly leading to neck and shoulder pain.  Did you know that 40% of hairdressers complain of neck pain?
A lot of those difficulties come from the hand positions and arm movements involved in blow drying.  Especially when the blow dryer weighs more than 1 pound.  But any repeated motions or time in stressful positions can cause problems.  Symptoms may develop so slowly that you don't give them the attention they deserve.  But pain, including chronic pain, is your body's way of telling you something is wrong and things need to change.
Hairdressers, Ergonomics and MSD Injury
What is ergonomics?  Simply put, it's the study of work environments for injury prevention.
What are MSD injuries?  That's not so simple.  The abbreviation MSD stands for musculoskeletal disorders.  In addition to muscles and bones, that mouthful also refers to tendon and nerve damage.  You've probably heard about musculoskeletal disorders by way of some of the specific conditions.
Tendinitis is an inflammation of the tendons that anchor muscles to bones, and is most often caused by physical strain.  Symptoms include pain, cramps, and stiffening.
Carpal tunnel syndrome is a painful compression of a particular nerve in the wrist.
Bursitis is an inflammation of the bursa, pockets of lubricating fluid protecting major joints.  Symptoms include pain, cramps, stiffness, and weakness.
Due to the activities, hairdressers perform all day, chronic shoulder pain along with pains and soreness in the neck, back, and arms are common.  But nothing to be ignored.  It's important to pay attention to ergonomics in order to to lower your risk of injuries requiring medical treatment.  And to feel better throughout the day and into the evening.
It's helpful to think of the results of poor ergonomics and MSD injury in three stages.
Feeling pain and muscle fatigue at the end of the day, but restored after a good night's sleep.  It's time to pay more attention to posture and how you go about your work.
Pain persists into next day and may disturb your sleep and work performance.  If this rarely occurs it helps to take a sick day to rest and recover.  But no matter how frequent or infrequent it's time to make major changes.  You may want to have a professional ergonomics assessment to prevent MSD injuries.
Constant unending pain is clearly a clinical disorder.  Time to see a doctor right away.
What To Do
When you've experienced any discomfort — whether in your wrists, arms, shoulders, neck, or back — it's time to make some changes.  The quickest and easiest is to make sure you have a blow dryer that's lightweight (under 500 g, i.e. 1 pound) and has an ergonomic grip.  Then it's time to break some habits.
Maintain a good posture, with a straight back and neck.
Avoid working in the same posture for long periods, or holding any part of your body in a particular position.  When blow drying switch hands back and forth.
With cutting and blow drying it's especially important to minimize lifting your upper arms as well as to avoid repetitive lower arm and wrist motions.
Avoid raising your arms above your shoulders.
Easier said than done!  In particular, how do you do a good job of blow drying without those awkward positions and raising your arms up high?  After years of suffering through aches and pains we invented the Smooth Air T-360, a nozzle attachment that fits just about any blow dryer you might have.  Its patented 360 degree swivel and telescoping design makes it quick and easy to adjust away all those awkward positions.
T-360 Ergonomic Nozzle
$29.95
CREATE SHINE, PROTECTS THE HAIR FROM DAMAGE
EASY TO USE, Patented Design is TELESCOPIC AND ROTATES 360 degrees
UNIVERSAL FIT, The Flexible, stretchy, silicon end fits and grips onto your 1 1/2 inch to 2 1/2 inch Blow Dryer end.
WORKS GREAT ON ALL HAIR TYPES
CONVERTS BLOW DRYERS INTO AN ERGONOMIC BLOW DRYER
Description
The T-360 Ergonomic Blow-Dryer Nozzle is for Great for Women & Men at home and also Professional Hairstylists!
The T-360 Ergonomic Blow-Dryer Attachment Concentrator works on all hair types!
Create SHINE and ELIMINATE FRIZZ, with the ERGONOMIC T-360!

Convert your Blow-dryer into an ergonomic styling tool!

& Finally a hair dryer attachment that stays on your hair dryer and won't Pop-Off!
*The Revolutionary T-360 Blow-dryer Nozzle Adapter was developed and Patented because so many Hairdressers and Consumers are tired of keeping their arms up in the air for long periods of time while trying to blow hair dry. This new Technology makes it easier to blow hair dry in the same direction as the cuticle of the hair shaft, resulting in BETTER CONDITION, SHINIER HAIR, LESS FRIZZ, richer looking COLOR and BLOWOUT's will last longer!
* Did you know that when the cuticles of the hair shaft are CLOSED, the hair is more PROTECTED from the elements such as;SUN, HEAT, WIND and DRYNESS.
* The T-360 Ergonomic hair dryer attachment extends and it turns 360 degrees, so it helps you RE-DIRECT the air Flo in the same direction as the cuticles of the hair and it also helps you to get to those hard to reach areas, like the back of your hair while keeping your arm down and more relaxed.
No more having to hold your arms up for so long and

No more stretching and twisting into awkward positions to blow-dry hair!
---
T-360 Ergonomic Blow Dryer Attachment Nozzle Features: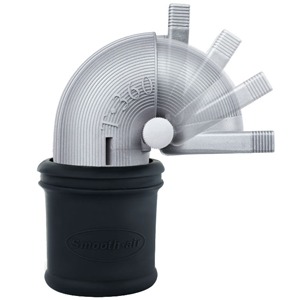 UNIVERSAL FIT and ADJUSTABLE
The T-360 Hair Dryer Nozzle has a high quality silicon sleeve/adapter that fits onto your 1 1/2 to 2 1/2 " inch blow dryer end, it stretches and it has a flexible sleeve so it fits snug onto your Hairdryer, so it won't pop off!
The T-360 ROTATES around 360 degrees and it is also TELESCOPIC so you can extend it!
Simply turn the button on the side for more or less tension on the telescopic feature.
RELAX YOUR ARM
The T-360 ERGONOMIC design Eliminates the need for hairdressers and consumers fo raise their arms while using the Blow-dryer.
You can MANUALLY ADJUST and control the angle of airflow and target hard-to-reach areas while holding the blow dryer in a relaxed and comfortable position
MADE IN THE USA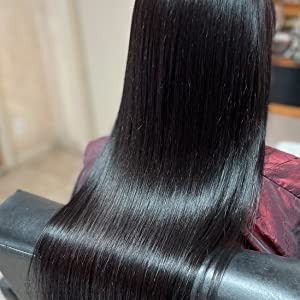 LESS WORK and MORE SHINE!
When you are more comfortable blow-drying you will be less frustrated and fatigued and more likely to dry your hair "completely" and that will ELIMINATE FRIZZ because closed cuticles make the hair MORE SHINY and PROTECTED.
---
The purpose of the T-360 is to make it easier for you to blow hair dry in the same direction as the cuticle of the hair shaft for the perfect blow-out!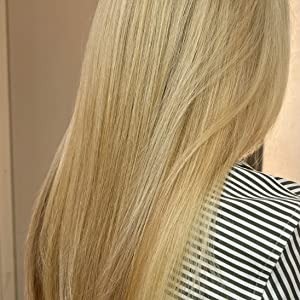 Re-Directing the Air-Flow Protects Colored Hair. When using the old style concentrators the hair gets frizzy because the air can only go straight out, so we blindly blast the air into the hair causing the frizz. Now with the T-360 you can redirect the air flow down the hair shaft.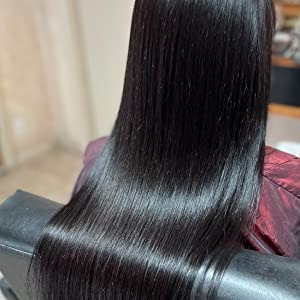 Ergonomic for Comfortable Blowdrying. When you are able to keep your arm more comfortable while styling your hair, you will dry your hair completely and the results will be beautiful shine and smoothness.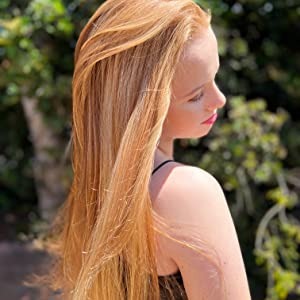 ---
Faster Blow-dry and Healthier Hair!Blow drying and styling long hair is easier with the T-360 nozzle concentrator because you can re-direct the air flow as you rest your arm
---
The T-360 helps you to Get Creative while Smoothing, Polishing and Styling the Hair!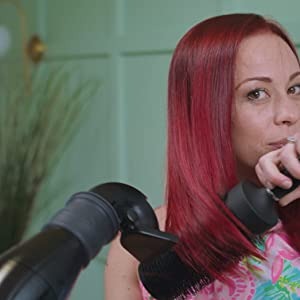 ---
LET THE T-360 DO THE WORK! Relax your body while you style your hair. Here a Flip was Created on the ends by turning the Nozzle UP! Turn the air Flo in any direction!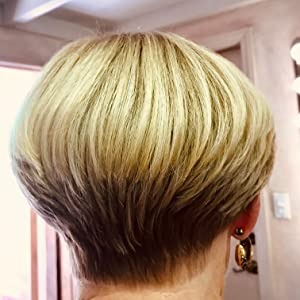 BLOWOUTS LAST LONGER!Blow-dry hair comfortably.The results will be SHINY, HEALTHIER, BEAUTIFUL HAIR! When you are more comfortable while drying your hair you will be more likely to dry your hair "Completely" and you won't leave the hair slightly damp, which causes the hair to be Frizzy. Closing the cuticles of the hair shaft makes Blowouts last longer.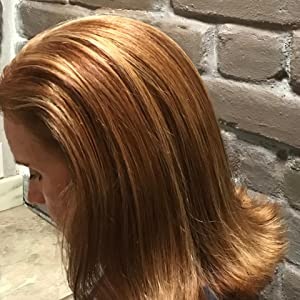 ---
BEAUTIFUL SMOOTH SHINY HAIR!SHINE and POLISH your hair with the T-360 Blow Dryer attachment. Remember to keep your arm down as much as possible and let the T-360 do the work!
---
*Returns are accepted within 30 days of customer receiving shipped item, returned item will be processed and refunded, (minus the shipping and handling) within 5 working days after we receive item.  State board health standards do not allow brushes to be returned so please be sure to pick the correct size.
Additional information
| | |
| --- | --- |
| Weight | 9 oz |
| Color | Red, Grey, Black |