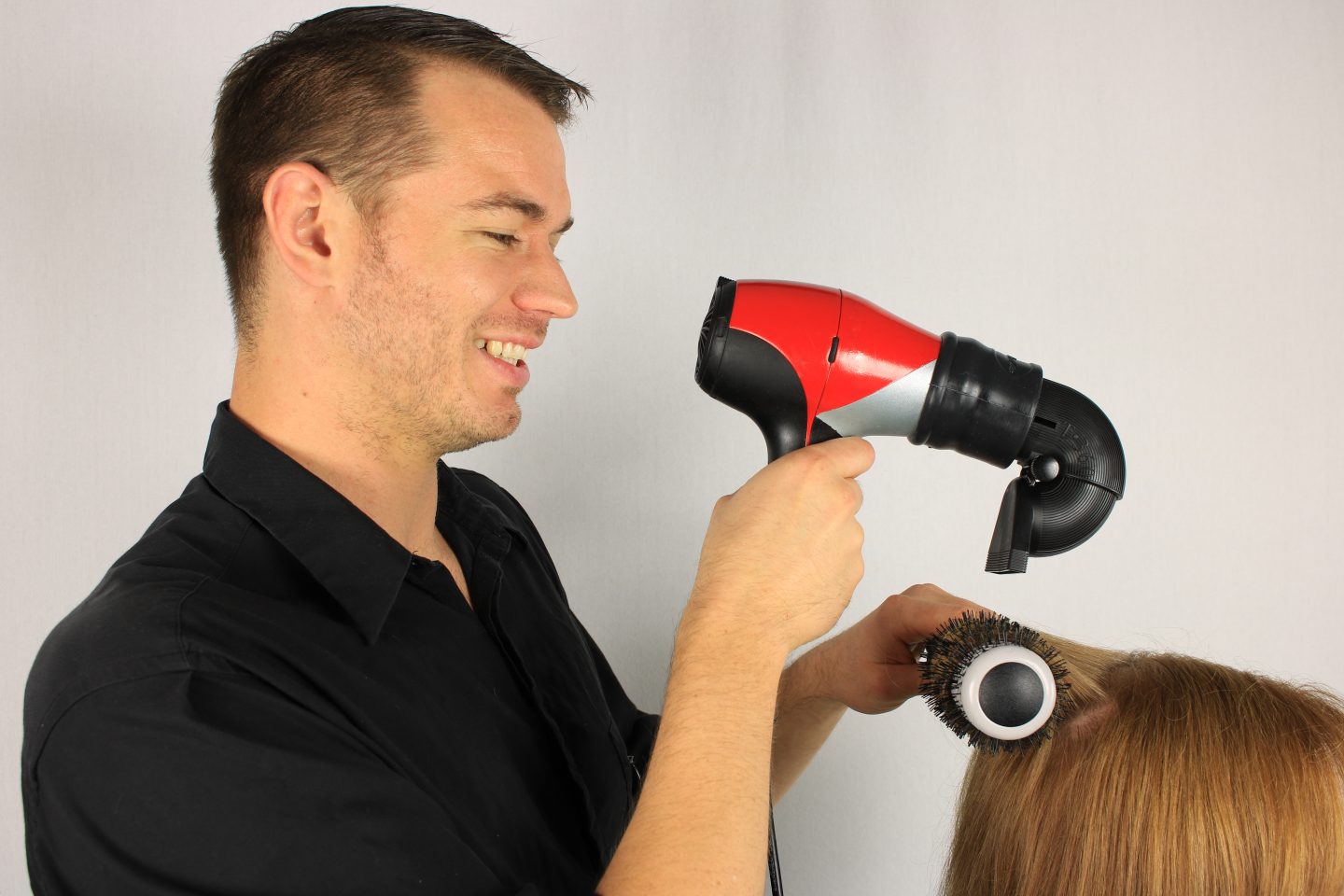 Professionals know that a round hair dryer brush is an ideal way to get better results in less time.  That makes it one of the best additions to any home … or professional … styling collection.  But not just any brush.  The details make a big difference in adding lift and texture to fine hair as well as in straightening curly or wavy hair.  And those details put ceramic hot air brushes at the top of the list.
Like professional stylists attends to every detail of a customer's hair, we attend to every detail of our products for a positively unique blow dryer brush.  Our Smoothair Brush has everything you'd want to make curling and styling easy and comfortable.
Its ceramic barrel distributes and re-radiates heat more evenly and warms the bristles, while staying light weight and balanced.  Unlike brushes with a chrome or other finish, Smoothair glides through hair with no hot spots.
Its bristles are infused with tourmaline, a natural mineral that releases negative ions for better styling results.
And of course we designed-in a comfortable ergonomic grip that reduces hand and wrist fatigue.
What's the Deal with Negative Ions?
The atmosphere creates positively-charged ions, and normal brushing creates even more of this static electricity.  Negative ions balance this out.  That not only reduces tangles and fly-away hair during dry styling, it helps close off cuticles for softer, shiner hair with less frizz.  And it also smooths out split ends and helps lock in natural moisture for healthier hair.  Beyond all that, it also means faster styling and drying.
The Right Diameter
The width of round hair dryer brushes makes a big difference.  That's why we offer 5 sizes of negative ion ceramic coated brushes.
1″ (26 mm)
1 1/4″ (32 mm)
1 5/8″ (45 mm)
2″ (53 mm)
2 5/8″ (65 mm)
If you measure from bristles to bristles it will be:
Brush # 65 is 3.5″  inches
Brush # 53 is 3" Inches
Brush # 45 is 2.5"   inches
Brush # 32 is 11/4″ inches
Brush # 25 is 1 5/8 inches
Smaller widths are better for small curls and shorter hair, medium sizes for medium curl.  Thicker barrels excel in adding volume, and are also better for women with thick, naturally curly, or coarser hair.
The Right Choice
With the perfect combination of ceramic coating, tourmaline infused bristles, and an ergonomic design the Smoothair makes dry and damp styling a breeze.  And you'll notice a bit more shine, smoothness, and volume — all from a single step!
Smooth-air Brushes
$27.00
26mm Bristle to Bristle across 1 5/8
32mm Bristle to Bristle across  2"
45mm Bristle to Bristol across  2.5"
53mm Bristle to Bristle across  3"
65mm bristle to Bristle across  3.5"
** PLEASE NOTE **
The diameter measurements of the round brushes pictured above are measured from outer bristle across the top of the brush to the other outer bristle.
WE CAN SAY THAT THE MEASUREMENTS ARE OF THE BARREL OF THE BRUSHES AND SAY THAT IF MEASURED FROM OUTTER BRISTLES ACROSS THE TOP
PLEASE ENSURE THAT YOU ORDER THE CORRECT BRUSH SIZE(S) AS WE HAVE A NO RETURN AND NO EXCHANGE POLICY (EVEN IF UNUSED) DUE TO CA STATE BOARD HEALTH STANDARDS.
Description
The Beauty of Ergonomics
When blow drying you'll have a brush in one hand and a blow dryer in the other hand, so it's important to position
Your body in a relaxed and natural working position.
You don't have to make your client move her head forward it's also important that she has a relaxing experience
By keeping your arms close to your body and not elevating your arms over your shoulders you will have a lot less wear and
tear on your arms and shoulders.
By using the longer barrel brush you will be able to efficiently do much better finishes because this will allow you
to take fewer and wider sections and cut down on the blow drying time.
The Smoothair Brushe barrel has a ceramic coating will distribute the heat evenly around the barrel, the bristles are infused with tourmaline negative ions this will penetrate and help condition the hair by closing the cuticle resulting in less frizz, smoother and shinier hair. The Smoothair Brush is longer, the handle is designed to prevent tingling and fatigue of the hands and fingers, it's very light weight and balanced, heat resistance, snag proof and 20% to 40% longer than other round brushes.
The Smoothair Brushes come in 5 sizes Retail Prices per brush $27.00
26mm Bristle to Bristle across 1 5/8
32mm Bristle to Bristle across  2"
45mm Bristle to Bristol across  2.5"
53mm Bristle to Bristle across  3"
65mm bristle to Bristle across  3.5"
Additional information
| | |
| --- | --- |
| Size | 26mm (1 5/8"), 32mm (2"), 45mm (2.5"), 53mm (3"), 65mm (3.5") |